Buddhist Monuments in the Hōryū-ji Area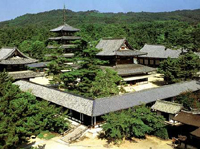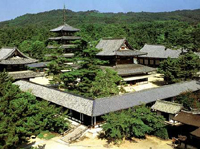 This is 2 day course. The fee is 150 USD from JR Nara Station.

Buddhist Monuments in the Hōryū-ji Area includes a variety of buildings found in Hōryū-ji and Hokki-ji in Ikaruga, Nara Prefecture, Japan. The structures inscribed are some of the oldest extant wooden buildings in the world, dating from the 7th to 8th centuries. Many of the monuments are also National Treasures of Japan, and reflect an important age of Buddhist influence in Japan. The structures include 21 buildings in the Hōryū-ji East Temple, 9 in the West Temple, 17 monasteries and other buildings, and the pagoda in Hokki-ji.
Guests take tour starting from Hōryū-ji. Enclosed by roofed corridors, the Western Precinct is home to the world's oldest surviving wooden structures: the central gate (Chumon), the main hall (Kondo) and a five-story pagoda. They were built sometime in the Asuka Period (538-710) and have not suffered destruction ever since, although they have undergone renovations multiple times over the centuries.